The Benefits of a Playgroup
What We Can Learn From Mr. Rogers
"Play is often talked about as if it were a relief from serious learning. But for children play is serious learning. Play is really the work of childhood." (Fred Rogers, host of the public television children's show, Mr. Rogers' Neighborhood, which ran on PBS from 1968 to 2001)
Language development

Small children need to be exposed to language-rich environments. Playgroups offer language models other than just the parents, potentially leading to a greater vocabulary. Small children learn social language and semantics from other children faster than from adults and are more likely to use new language with other children. Learning the songs, rhymes, and finger plays repeated during circle time also helps with language development.

Gross and fine motor development

There are many opportunities at the playgroup to develop motor skills. Children make crafts, explore art supplies, put puzzles together, and play with small toys to develop fine motor skills. They run, jump, dance, climb, push, slide, and ride — having fun while developing their gross motor skills.

Social and affective development

Exposing your child to social situations at the playgroup will prepare him or her for preschool and/or kindergarten. Children learn which behaviors create positive reactions from other children and adults, such as what happens when they share, take turns and help put away toys. They have the chance to participate in simple group routines, something they may be unlikely to do at home. They begin to gain self-esteem and confidence by trying new things and making friends.
And don't forget… playgroups are not just for children!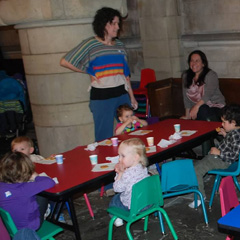 Our playgroup benefits adults, too. Stay-at-home parents and caregivers need a break from the same routine at home and a place to take their child to play whatever the weather. New parents and families new to Baltimore will gain from the world of advice available from other members. Socializing in the playgroup's relaxed and welcoming atmosphere can reduce the feeling of isolation that all parents and caregivers sometimes feel, no matter where they're from. Families here find friendships that extend outside of the playgroup with play dates and outings.
Finally, the Co-op offers terrific ways to get involved with our community, even if you have just a little time to offer. Enjoy the rewards of being a part of a vibrant cooperative organization!