A Landmark Organization
Founded in 1989, Children of the World Co-op, Inc. is a 501(c)3 nonprofit organization. The Co-op runs a gently-structured playgroup for families with children ages 6 months to 4 years old. We welcome new members, including those new to Baltimore and those new to the United States.
Our Mission
The mission of Children of the World Co-op is to provide a nurturing, safe and fun environment where international and American families come together in Baltimore to join in friendship, cooperation and mutual support while building a sense of community. We offer an early-education playgroup program that is affordable, promotes tolerance and celebrates cultural diversity. We also offer parenting resources and adult English language instruction.
Staff
Karen Rist, MSW, Executive Director / Program Director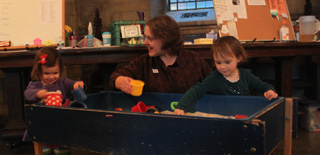 Hello! I'm a native Marylander who became a mom a bit late in life. I joined COTW when my daughter was about two years old and we both loved the Co-op experience! I volunteered, then joined the staff. Since 2002, I've been wearing two hats – Program Director, overseeing the morning playtime with the help of all the parents and caregivers, and Executive Director, managing the administrative duties of our nonprofit organization. Being with our families each morning constantly renews my belief that we have a unique and wonderful gathering taking place here every day. Who knew that playing together could be so good for us, big and small?!
Board of Directors
The business and affairs of Children of the World Co-op, Inc. are managed by its Board of Directors, each serving a one year renewable term. Directors are elected by the General Membership at the Annual Meeting of the Corporation, held in October of each year. Regular meetings are open to all Co-op members.
The Current Board (Term Ending October 2021)
Officers:
Caitlin Brauer, President
Margaret Rogers, Vice President
Johanna Seymour, Treasurer
Marmie Fishel, Secretary
Directors:
Melanie Peake
Advisors:
Philip Symonds, C.P.A.
Mary Pat Clarke, Former Baltimore City Council Representative
Alicia Morgan-Cooper, M.D., Village Pediatrics